San Diego Guitar Lessons by Nikola
San Diego Guitar Lessons by Nikola
Read student testimonials here: Testimonials
Milic School of Guitar
---
Nikola Milic's San Diego Guitar Lessons are professional, insightful, progressive and cover a wide and exciting spectrum including:
The Rudiments of Music
Technique and Repertoire

Master Class
* Chords
* Rhythm studies
* Scales
* Warm up stretches
* Sight reading for beginners
* Theory
* Modes
* Lead improvisation
* Ear training
* Dynamics
*Harmonics
*Modulation
*String Skipping
*Economy Picking
* Sweep picking
* Speed picking
* Arpeggios
and pentatonics
* Two-hand tapping
* Chicken picking
* Blues improvisation
Nikola's teaching methods have been acknowledged by San Diego's top musicians and his clients have included music producer and composer Toby Weiss (son of Jazz legend and Musicians Institute co-founder Joe Diorio), pro touring guitarist Christopher Eck of the band Masterguru and former students of celebrity virtuoso guitarists Greg Howe (former guitarist for Michael Jackson) and Joe Stump (solo artist and Berklee College of Music professor).
Get real results with a player who teaches serious musicians!
Live lessons in your own home or over

To inquire about lessons with the finest San Diego Guitar Instructor available please send Nikola a message via the Contact page.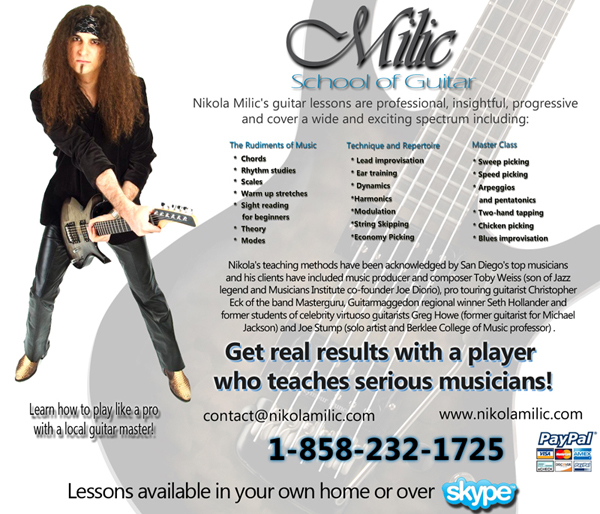 metal guitar instruction, rock guitar instruction, neo-classical guitar instruction, blues guitar instruction, and jazz guitar instruction